Maher mahmoud
Maher Mahmoud is a Syrian composer and oudist. He was born in 1986 in Salamiya -a city in the middle of Syria- and lived in Damascus until 2012 when he briefly moved to Jordan. In 2013 Maher moved to Denmark, where he presently resides.
Maher started his musical education at the age of six by learning the Arabic oud. He graduated from The Higher Institute of Music in Damascus in 2010, where he studied the oud deeply and both Arabic and classical western music.
In 2019 Maher graduated from The Royal Academy of Music in Aarhus, Denmark, where he studied at the Soloist-line (The Advanced Postgraduate Diploma) in rhythmic composition.
Maher has since 2005 been composing and arranging for several musical groups: big band, symphony orchestra, solo, various ensemble sizes, Arabic Takht and chamber orchestra. He is interested in world music and discovering new sounds on the oud and additionally, experimenting with different styles of contemporary music.
Since 2009, Maher has worked with different bands and artists in Denmark, UK and around Europe – among others are Damon Albarn and Brian Eno, Berlin Chamber Orchestra, Dunia Ensemble, The Syrian Expat Philharmonic Orchestra, EU.Terpe Orchestra, Dicte, JSO Bremen-Nord Philharmonic Orchestra, The Orchestra of Syrian Musicians, RUM band, Blood-Sweat-Drum & Bass big band, S. Møller Big Band, Art Ensemble Syd, Listen! Trio, Nouri Iskandar String Quartet, Li Dine, Simon Spang-Hansen & Middle Earth, Jiraan, Grænseløs, Jovan Pavlovic Trio and many others.
Alongside, Maher is working on several projects, which range from Arabic, jazz and classical oriental music, and is starting a new network of Syrian professional musicians around Europe in collaboration with Danish musicians in Denmark, where he found The Syrian Expat Ensemble.
His debut album Mirage was released in 2010
Mirage

Maher Mahmoud - Oud
Rami Aljendi - Percussion
George Oro - Sound effect
Arranged and Produced by Maher Mahmoud
Recorded, Mixed and Mastered in Gaya Studio
Damascus - Syria 2010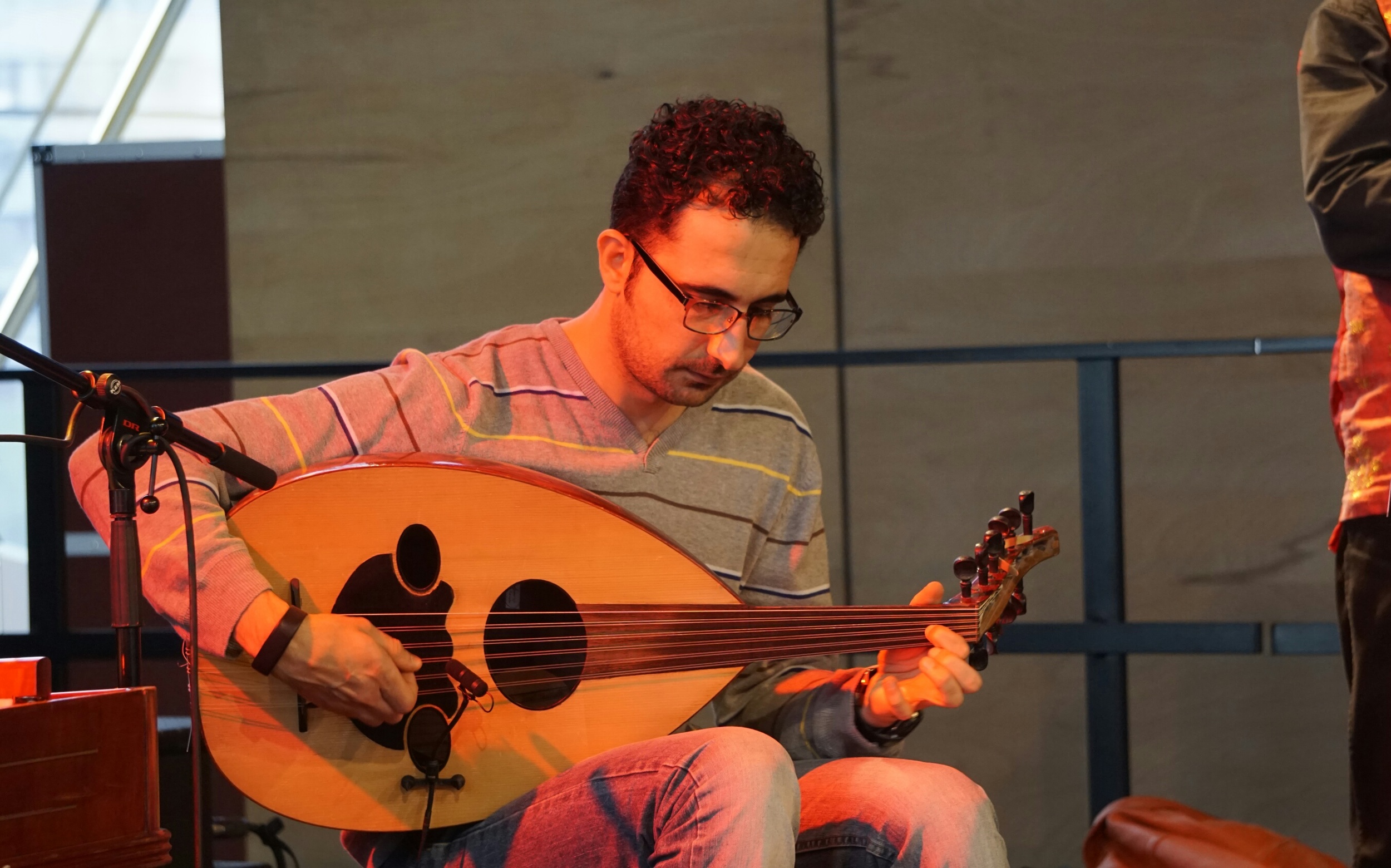 The Syrian Expat Ensemble
The ensemble includes Syrian musicians who studied together previously at The Higher Institute of Music in Damascus and used to be members of the Syrian National Orchestra for Arabic music.
The musicians play different styles of music range between Syrian classical, traditional, and folk music.
Maher Mahmoud -composer and oud player- leads the ensemble. In 2015 He started reassembling the group in cooperation with the known Danish musician Morten Carlsen in Denmark, where they met the first time after few years of separation. Carrying many new experiences they play different events and concerts within The Syrian Culture Caravan (2015, 2016, 2017) in Denmark: Copenhagen, Aarhus, Roskilde, Hjørring, Odense, Køge and many others.
Beside playing in Denmark, they have been touring in Europe and UK with Damon Albarn, Brian Eno, The Orchestra of Syrian Musicians and The Syrian Expat Philharmonic Orchestra.
The ensemble plays original compositions and other works belong to Syrian classical and traditional music, in addition to different contemporary works by Syrian composers.
The band 'Dunia' is creating new music with a palette of sounds from instruments like cimbalom, tablas, oud, bass, guitar, trombone and woodwinds.
As the nine musicians of highly diverse musical and cultural backgrounds met for the first time in December 2013, we didn't know its potential.
After touring in 2014 the group can look back at an overwhelmingly positive reception from audiences and venues. Expectations were exceeded and we are proud to present this album.
Morten Carlsen